Delivery
Our shipping costs are a flat rate, meaning you can add any amount of products to your order and you will pay the same.
Regular Post - $10.95
Express Post - $12.95 (If your order contains a plant express is required)
HERB PLANTS
We send (Australia wide, excluding Western Australia and Tasmania):
Monday and Tuesday (for all zones)
OTHER PRODUCTS
We send (Australia wide):
Monday to Friday
*Subjected to actual conditions. Find out more about our Delivery information.
Returns
We want you to be thrilled with your purchase from us. If you are not satisfied with an item and need to return it, we're here to help.
Herb Plants
- If you are unhappy with the quality of Herb plants they must be photographed on the day of receiving and emailed to us within 24 hours.
Find out more about our Returns & Refunds.
Customer Reviews
08/01/2022
Mr C.

Australia
Best Organic Seedlings ever.
My overall experience: Excellent! Why? They arrived perfectly, they were not even bruised or crushed and I planted them within 48hrs of getting them and just letting them adjust to tropical North Queensland weather. They have taken off immediately. Two months later and I enjoy fresh tea, fresh herbed food and the beautiful flowers. I am going to buy all of the Australian natives to encourage native pollinators to thrive. Very rewarding experience. Would definitely recommend this if you love gardening for herbs. Could you please do medicinal mushrooms as well?
08/04/2022
Mudbrick Herb Cottage
Thanks so much for leaving a review. Glad to hear they are growing well for you. We would love to sell Mushrooms. We do sell some Reishi and Chaga dried mushrooms that come from China. Keen to try and find some Australian sellers though. Do you want to grow mushrooms or buy the dry ones?
07/23/2022
Cheryl D.

Australia
Balm of Gilead
I was very happy to receive my plant which came safely packaged, it is now thriving and I am delighted to have reclaimed a plant I thought I had lost forever. Thank you Mudbrick Herb Cottage!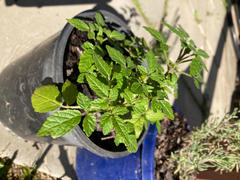 09/04/2021
Anonymous

Australia
Very nice healthy plants