Delivery
Our shipping costs are a flat rate, meaning you can add any amount of products to your order and you will pay the same.
Regular Post - $10.95
Express Post - $12.95 (If your order contains a plant express is required)
HERB PLANTS
We send (Australia wide, excluding Western Australia and Tasmania):
Monday and Tuesday (for all zones)
OTHER PRODUCTS
We send (Australia wide):
Monday to Friday
*Subjected to actual conditions. Find out more about our Delivery information.
Returns
We want you to be thrilled with your purchase from us. If you are not satisfied with an item and need to return it, we're here to help.
Herb Plants
- If you are unhappy with the quality of Herb plants they must be photographed on the day of receiving and emailed to us within 24 hours.
Find out more about our Returns & Refunds.
Customer Reviews
12/06/2021
Natasha B.

Australia
Excellent experience. Excellent customer service. Thyme is doing great. Unfortunately, the calendula didn't do so well travelling. I'm still holding out hope but all above ground green is gone. And my elderberry is struggling as well. Followed instructions, but, I'm uncertain as to what is happening.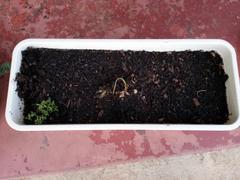 11/17/2021
Julie E.

Australia
Thyme, time…
I recently purchased nine types of thyme from Mudbrick Herb Cottage. The plants arrived perfectly. All individually wrapped and within 1-2 days of being dispatched. Now I'm watching the thyme grow to see what their flowers look like and how slow or fast they grow. So I can plant more! I call it my thyme time…
08/08/2021
Chris M.

Australia
You can use this business with confidence
Quite a new experience with plants. I usually buy from Bunnings and everything dies. I thought it was me. Bought six single different herbs from Herb Cottage and EVERY SINGLE ONE is thriving weeks later. Much better quality stock. Very excited. Great advice on what to do. Loved the video. Great packaging and service.