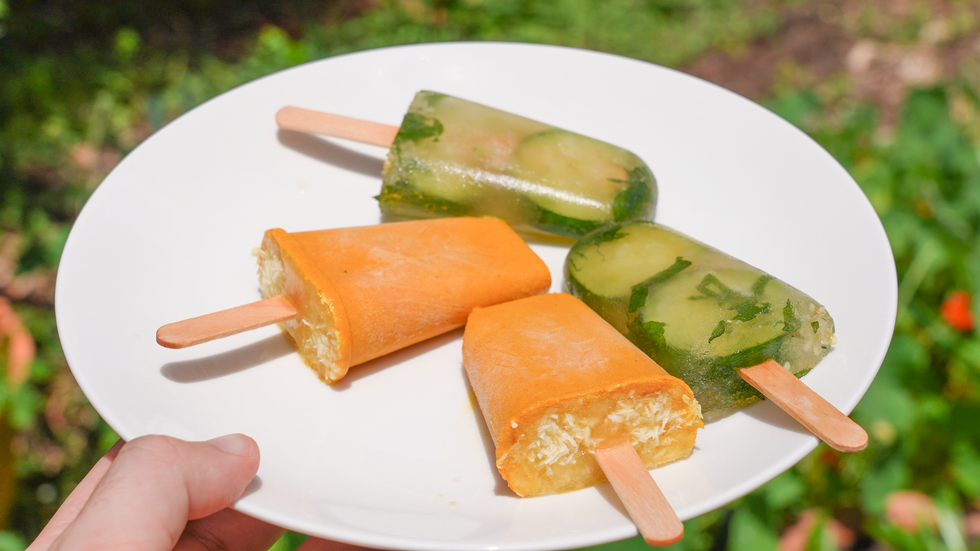 There's nothing better than a cooling ice block in summer!
I wanted to share a refreshing and creamy ice block recipe that uses the herby power of turmeric & other delicious ingredients. Ice blocks have always been a fun part of our boys' lives when they were younger (and still now they're older!) - so having the chance to share a herby twist on a fun family treat is always nice.
What's So Good About Turmeric?
Turmeric is a bit of a wonder herb. An anti-inflammatory and anti-oxidant herb amongst other things, Turmeric is an important ingredient in the food of India and Southern Asia (what would a curry blend be without turmeric to add its yellow colour!?)
It has also gained popularity as a medicinal herb with research confirming many of its traditional medicinal uses. In general, turmeric is spicy, bitter and warm. It is an essential ingredient in commercial curry powders and is used in pickles (especially piccalilli). It adds flavour and colour to curries, devilled eggs, beans, lentil, rice, poultry, seafood and vegetables in particular cauliflower and potato dishes.
Turmeric is known to stimulate the gallbladder. It can improve the action of the liver and is a remedy for jaundice. It can also be used to stimulate digestion, and is helpful for gastritis, acidity and relieving nausea. The anti-inflammatory properties make it useful for arthritis. Turmeric can be helpful to reduce the risk of strokes and heart attacks due to its cholesterol-lowering and blood thinning properties.
The Power Of Pineapple
You can't really say no to a juicy and sweet slice of pineapple. Here on the Gold Coast, we're close to where most of Australia's pineapples are grown and distributed. From the southeast around the Sunshine Coast, all the way up to the north, over 35 million pineapples are produced each year.
Pineapples really pack a punch, full of nutrients, antioxidants and other goodies that help against disease and inflammation. They are low in calories, full of vitamin C, and are known to aid digestion and boost immunity. If you haven't made pineapple a part of your diet yet, it really is a versatile addition to any meal of the day. You can add it to brekkie with yoghurt or a smoothie, lunch on a burger, dinner with some ham, or a fruit salad for dessert.
Creamy Coconut Milk
Coconut milk is a thick and creamy mixture of coconut flesh and water - a delicious ingredient used in many southeast Asian, south American, and Indian dishes and curries. It can be used in a thick form for desserts and thick sauces, or in thin form for soups and sauces.
Coconut milk is a rich source of fats, vitamins and minerals. It contains vitamin C, Iron, Magnesium, Potassium and more. Coconut milk may reduce inflammation and swelling, aide stomach ulcers, and help the immune system fight viruses and bacteria. It's tasty and nutritious, and the perfect addition to this ice block recipe!
How To Make Pineapple, Turmeric And Coconut Milk Ice Blocks
Step 1: Add 1 tsp of turmeric powder to a bowl.
Step 2: Add 1 tbsp of hot water and stir it to a paste.


Step 3: Add a pinch of pepper and mix well.


Step 4: Stir through the coconut milk and honey.


Step 5: Chop the pineapple finely or blend it in a processor.


Step 6: Add the chopped pineapple to the turmeric mix and
pour into ice block moulds.

Step 7: Cover with baking paper, and secure with a rubber band.


Step 8: Put small slits in the backing paper, and poke the popsicle sticks
through.


Step 9: Put the ice blocks into the freezer overnight or until frozen.

---