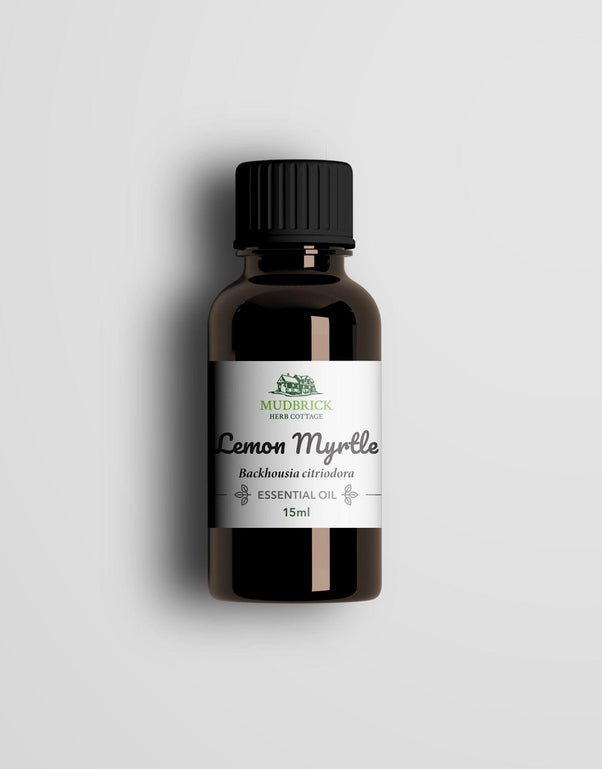 Lemon Myrtle Essential Oil
Lemon Myrtle Essential Oil
$1390
$13.90
Regular price
Low stock - 6 items left

Inventory on the way
---
Extracted from the leaves of the lemon myrtle tree (Backhousia citriodor) via steam distillation, our certified-organic Lemon Myrtle Essential Oil is a popular choice if you're looking to boost your overall health & wellness. Its natural antimicrobial and anti-inflammatory properties make it a must-add to your oil collection.
Lemon Myrtle Essential Oil helps alleviate respiratory issues and promote healthy digestion. With a high concentration of citral, the zesty & powerful scent also stimulates focus, concentration, and energy.
Our Lemon Myrtle Essential Oil is organically-certified in Australia, ensuring the highest quality and potency. Add a few drops to your diffuser, bath, or massage oil for a refreshing and healing experience.
Key Benefits
Cold & flu -

Treats common colds & flus, bronchitis, asthma, and sinus infections.
Cleaning -

Instantly cleans & disinfects surfaces, killing germs, bacteria, and fungi.
Skin -

Reduces acne, oily skin, and water warts.
Mood -

Alleviates depressing thoughts and dispels negative feelings.
Sleep -

Relaxes & calms mind before bed, helping you to fall asleep & stay asleep.
How to Use
Bottle

- Place your nose directly over the bottle and take 1-2 deep breaths through your nose to inhale the refreshing aroma.
Diffuser

- Fill your diffuser with water and add 3-5 drops of Lemon Myrtle Oil for traditional aromatherapy.
Evaporation

- Add 3-4 drops to a cotton ball or tissue and allow the scent to evaporate naturally around you.
Steam

- Add 2-3 drops to a steaming pot of water, then place your face over the bowl and cover your head with a towel. Breathe deeply through your nose for 2 minutes, rest for 2 minutes, then repeat.
Topical

- Mix 1-2 drops of Lemon Myrtle Oil per teaspoon of carrier oil, then massage gently into your skin or scalp.
Pairs with: eucalyptus, peppermint, tea tree, and lavender
Precautions: Always patch test on a small area of skin before applying to a larger area of skin or scalp. Lemon myrtle essential oil is generally safe for use during pregnancy and on children, but it is always best to consult with a healthcare professional. Avoid contact with eyes, inner ears, and sensitive areas. We do not recommend taking essential oils internally.