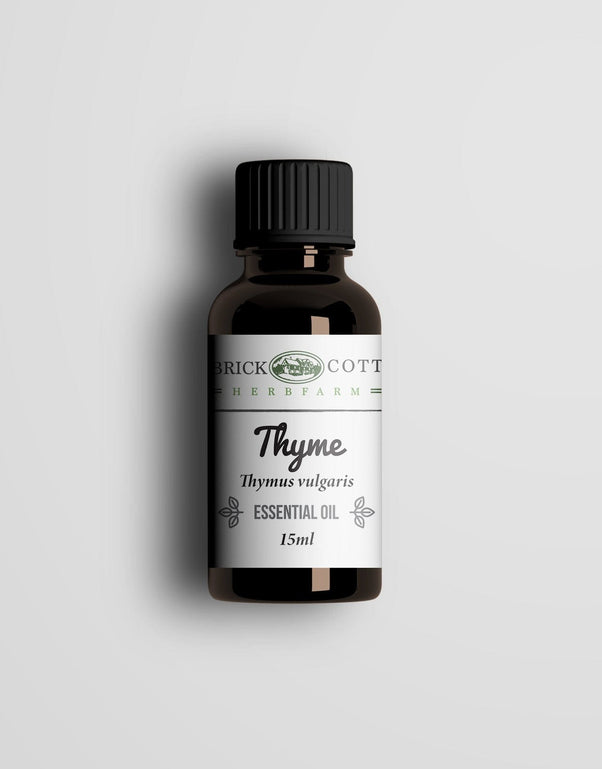 $2795
$27.95
Regular price
Low stock - 19 items left

Inventory on the way
---
Distilled from the leaves & flowers of the thyme plant (Thymus vulgaris), our certified organic thyme essential oil is a versatile and potent oil with a variety of healing benefits. Its natural antimicrobial & anti-inflammatory properties make it a popular choice for fighting infections and promoting overall health.
Thyme essential oil can also help alleviate respiratory issues, such as coughs and congestion, and promote healthy digestion. Its spicy, energizing scent can also help improve focus and concentration.
Our thyme essential oil is Organically-Certified in Australia, ensuring the highest quality and potency. Add a few drops to your diffuser, bath, or massage oil for a rejuvenating and healing experience.
Key Benefits
Infections -

Disinfects cuts & reduces inflammations around wounds and insect bites. 
Skin -

Treats acne and other skin inflammation. 
Respiratory -

Alleviates coughs, congestion, and other respiratory issues. 
Digestion -

Relieves intestinal cramping, reduces bloating, and promotes healthy digestion

. 
Focus -

Increases focus, improves memory, and prevents cognitive decline. 
How to Use
Bottle - Place your nose directly over the bottle and take 1-2 deep breaths through your nose to inhale the invigorating aroma.


Diffuser

- Fill your diffuser with water and add 3-5 drops of thyme oil for traditional aromatherapy.
Evaporation

- Add 3-4 drops to a cotton ball or tissue and allow the scent to evaporate naturally around you.
Steam

- Add 2-3 drops to a steaming pot of water, then place your face over the bowl and cover your head with a towel. Breathe deeply through your nose for 2 minutes, rest for 2 minutes, then repeat.
Topical

- Mix 1-2 drops of thyme oil per teaspoon of carrier oil, then massage gently into your skin or scalp.

Pairs with: lavender, lemon, rosemary, and tea tree
Precautions: Always patch test on a small area of skin before applying to a larger area of skin or scalp. Thyme essential oil is not recommended for use during pregnancy, and excessive use may cause skin irritation. Avoid contact with eyes, inner ears, and sensitive areas. We do not recommend taking essential oils internally.