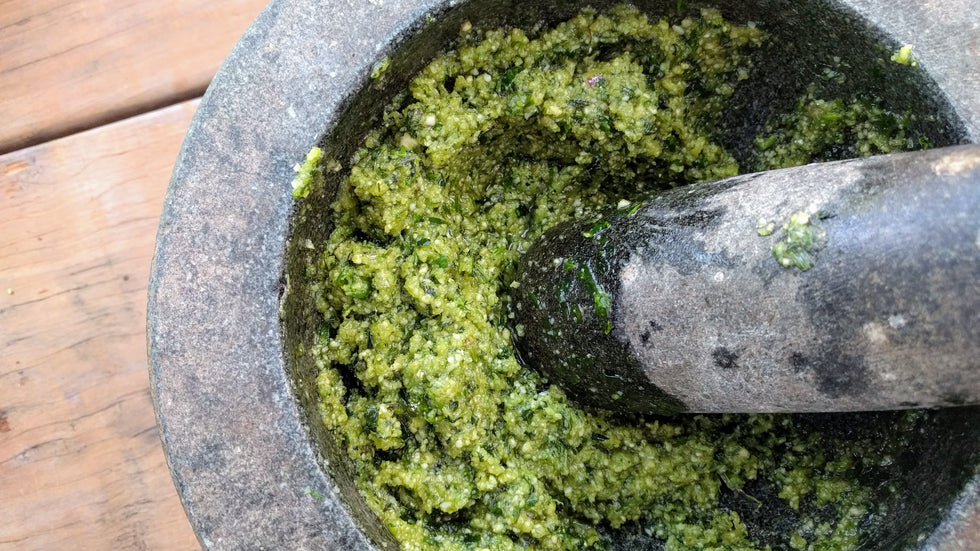 Sweet basil is abundant in my garden during early Autumn. It's so healthy and bushy with its large fragrant leaves. I sometimes take it for granted and forget that it may be gone by the time Winter comes around. Especially if we get some cold days towards the end of May.
To meet my Winter craving for basil, now is the time to cut the bush back by about a third. I can use all those flavour filled leaves in a batch of pesto.
Make enough to have a couple of jars in the fridge for now and some to store in the freezer for those winter cravings.
The word pesto comes from the Genoese verb 'pestare', which means to pound or crush.
This makes sense, as
traditionally
pesto
was made by
pounding the ingredients in a mortar with a pestle
. I still love this method of making pesto. It seems to have a deeper flavour when made like this. There are many recipes out there for pesto but here is mine.


How To Make Fresh Basil Pesto
Basil Pesto Ingredients
3 cloves of garlic 

3 cups of fresh basil leaves

Pinch of salt

¼ cup of pine nuts* 

1/2 cup of freshly grated parmesan cheese

1/2 cup extra virgin olive oil
* I often use almonds instead of pine nuts as they are cheaper, and I don't always have pine nuts in the cupboard.
Mortar and Pestle Method:
Peel garlic and place in the mortar. Pound with the pestle until the garlic is smooth.

Add a pinch of salt, the basil leaves and pound until the basil is a paste. Use the sides of the mortar to help break the basil down, keep your wrist loose and let the weight of the pestle do the work.

Add the pine nuts and continue pounding until smooth.

Add parmesan, mix until well combined. 

Then slowly drizzle in the olive oil while still gently pounding the pestle around to mix in the oil.

Put into a sterilised jar, level the top of the pesto and cover with a layer of olive oil. This helps to stop oxidation. 

Store in the fridge or freezer for later use.
Processor Method:
Put garlic, pine nuts and basil into the bowl of the food processor. 

Blend until smooth

Add the grated parmesan and pulse until mixed through.

Add the olive oil slowly/gradually while the processor is still on until combined.

Put into a sterilised jar, level the top of the pesto and cover with a layer of olive oil.
Tip: If keeping some pesto in the freezer for later use, it is best to do smaller servings so you can take out the right amount for your meal. Ice cube containers work a treat for this. Once frozen, remove from ice cube trays and store them in a container in the freezer.
Serve Pesto:
Stir through cooked pasta for a quick, easy meal.

You could also add a few toasted pine nuts, black olives, chopped tomato, roasted tomato or slithers of semi-dried tomato and top with some fresh basil leaves.

Use instead of butter on sandwiches.

Mix with cream cheese & sour cream to make a dip.

Add to stir-fries.

Stir through our spicy pumpkin soup.

Mix with olive oil and lemon juice to make salad dressing.

Top cooked meat, chicken or fish with a spoonful.
Buon appetito!
---