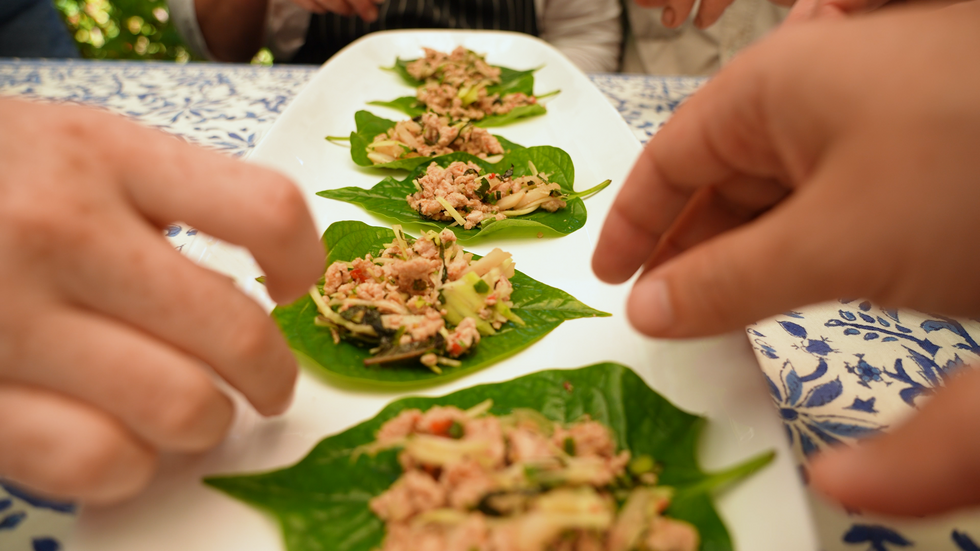 Spicy Chicken Salad on Betel Leaves is loosely based on the Thai dish - Miang kham, this is a traditional snack in parts of Southeast Asia.
This recipe uses the flavours of herbs like coriander, lemongrass, chilli and mint, and combines them with chicken mince, and other ingredients before being served on vegetable pepper leaves also known as betel leaves for a mouth-watering fragrant meal that will absolutely treat your taste buds. Watch the recipe video here, or scroll down to see the recipe card and learn more about the herbs I used.
PS. For a vegan friendly alternative just swap the chicken mince for crumbled firm tofu, and swap the fish sauce for 'Cocomino Fysh.'
Ingredients In Spicy Chicken Salad On Betel Leaves
Lemongrass
Lemongrass is an essential ingredient in many Asian dishes. The leafy tops can be used for tea (hot or cold) use up to 1 tbsp of chopped leaf to a cup of boiling water. The lower part of the stem is used in cooking, cut the stem about 1 cm from the base, using the base up to where the leaves separate, remove the two outer layers, bash with the back of a knife or a pestle then slice thinly, you can go one step further and pound it in a mortar and pestle. You can also put the stalk in whole after bruising and remove it before serving. Use in stir-fries, soups, curries, sauces and syrups.
Growing Tips: Grow lemongrass in full sun, it likes rich moist soil. After winter lift and divide the plant cutting back to about 2cm from the base before replanting.
Perennial Coriander
Originally from South America, this thorny coriander is now used in many rural Asian villages. Cut the prickly seed heads at the base of the stem, they are hard to handle (keeping them cut off will allow the leaves to grow better which are easier to use. ) You can use the seed heads to make a spicy paste. Put seed head into blender or processor with chilli, ginger, garlic and sesame oil or vegetable oil and whiz until smooth. Store in fridge, use spoon fulls in stir-fries, curries etc or spread on sandwiches or cheese.
Pull the leaves off from the outside base of the plant, chop them into salads, salsa, stir-fries, curries, soups, etc. This coriander dries well, still retaining good flavour.
Growing Tips: Prefers a well-drained sunny position, letting seed heads mature and brown will form seed to regrow more plants.
Galangal
In Indonesia, galangal is often used instead of ginger, it has a spicy flavour with hints of pepper although not as hot as ginger. Use a sharp knife to cut out some of the root (it will grow back). Thinly slice, grate or pound in a mortar and pestle. Use in stir-fries, curries, soups and stews. You can also grate it into porridge or yoghurt with some apple and cinnamon. Place slices of galangal in a cup of boiling water, cover and steep for 5min drink for nausea.


Growing Tips: Semi-sunny position, suits understorey planting. Thrives in a loamy soil.
Chilli
Cut or break the chillies off the plant. Handle with care, as the burn can stay on your hands (where it may not be burning) and be transferred to more sensitive areas (where it will burn).

To decrease the heat of the chillies remove seeds and membrane, you can also soak the de-seeded chilli in cold water for about ½ hour. Use chillies to add fire and flavour to curries, soups stews, stir-fries, sauces.
Growing Tips: Full sun, well-drained, frost tender. When all the chillies have been picked and the bush has finished flowering it is a good idea to cut the bush back by about a third.
Mint
Garden mint has a fresh taste and combines very well with other Asian flavours. Cut along the stem just after the node. Tear or shred the leaves to use in stir-fries, salads, salsa, sauces, drinks and fruit salads. Garden mint is really nice with chopped fresh pineapple.


Growing Tips: Plant your mint in pots to keep it contained. It likes a moist semi-sunny position, divide and repot plant every couple of years for vigorous growth.
Vegetable Pepper / Betel Leaves
There is some confusion in the name of this one. This plant is Piper sarmentosum and is the leaf that is commonly used in Australia and Asia for wrapping small portions of food. It also goes by the names wild pepper, Cha plu in Thailand, La lot in Vietnam and various other names through Asia. We have always called it vegetable pepper to identify it from Betel pepper Piper betle, the leaves of which are chewed with betel nut (a fruit from a the betel palm) and lime in many parts of South-East Asia and New Guinea.


Vegetable pepper is originally from Thailand and Vietnam. The leaves which have a spicy peppery taste can be cooked like spinach or kang kong, and used as a vegetable or can be shredded and added to soups stews and stir-fries at the end of cooking to give a subtle peppery flavour.

Raw Vegetable Pepper leaves can also be torn or shredded into salads and are particularly nice in rice salad. The leaves are also used to wrap small pieces of food.

Growing Tips: It likes a warm spot in the shade with rich soil and good drainage.
How To Make Spicy Chicken Salad On Betel Leaves
Step 1: Heat peanut oil in wok.


Step 2: Add lemongrass, garlic, chilli and galangal and stir fry on high heat for 2 Min.


Step 3: Add chicken mince and cook for about 3 Min.


Step 4: Add soy sauce, fish sauce, sweet chilli sauce and sesame oil and stir until chicken is cooked.


Step 5: Take off heat and stir through water chestnuts, shallot, green paw-paw, coriander, mint, palm sugar and lime juice.


Step 6: Place spoonfuls of mixture onto vegetable pepper leaves and serve.

---