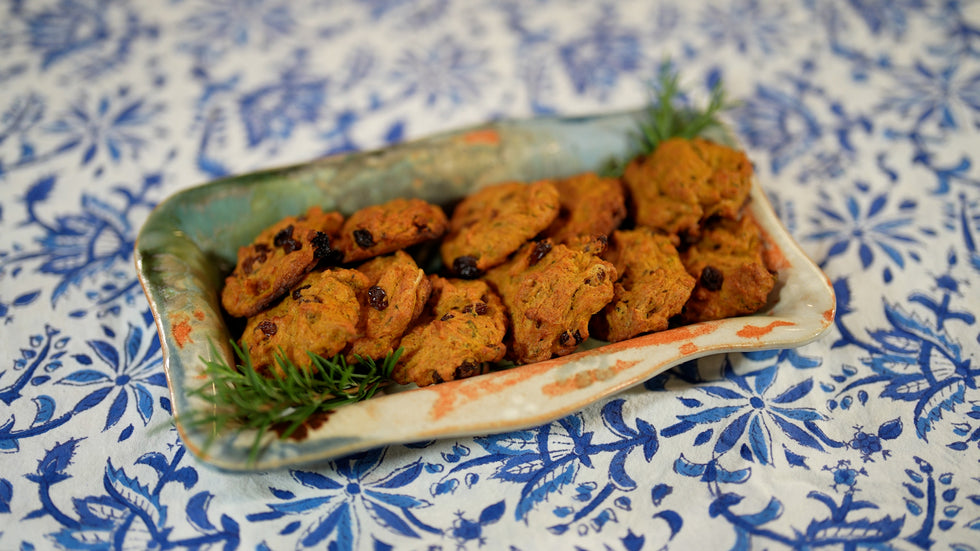 For about 25 years now I've been making these delicious pumpkin and rosemary biscuits. Not only are pumpkin and rosemary a great combo, but including ingredients like sultanas, ginger, cinnamon and more, really take this biscuit up a notch!


Originally from a little cookbook called "Herbs: a way of life" by the QLD Herb Society, these biscuits have been a favourite of groups or guests that have visited the nursery over the years. Along with our free herbal tea, we also sell these biccies on our Open Weekends - made fresh by my son Bart and his partner Thalia. I can't recall the number of times I've been asked to share the recipe, so here it is! Watch the recipe video above, or scroll down to see the recipe card and learn more about the ingredients.
Ingredients In Pumpkin & Rosemary Biscuits
Rosemary
Aptly known as the 'Herb of remembrance', rosemary, not only reminds us of the ANZACs but also improves our memory. High in volatile oils, the strong pine-camphor-citrus aroma pairs well with garlic and onions, lamb, herb butter, potatoes, pumpkin, oils and vinegars, biscuits, citrus-based cake and shortbread.

Ginger
An effective remedy for indigestion and nausea,
ginger
can be added to herb teas to give a spicy warm slightly floral touch of flavour. Ginger can enhance the flavour of stir-fries, noodle dishes, curry, fried rice and sauces. Fruit desserts also benefit from the addition of ginger such as poached peaches or apricot or pear tart. And of course cakes and biscuits.
Cinnamon
Cinnamon is commonly used in Middle Eastern and North African savoury recipes such as lamb stew, stuffed eggplant and in curry and rice dishes in India. Cinnamon is well known for its addition to sweet dishes in the west. Apple pie, milk and rice pudding, eggnog cakes and biscuits. Like other spices, cinnamon helps digestion by soothing tummy aches and can be added to teas and coffee to add a natural sweetness.


Nutmeg
Sweet, nutty, warm and earthy, nutmeg has a strong flavour and needs to be used in small amounts. It can be added to savoury dishes as well as sweet ones. Simply grate nutmeg over vegetables with a white sauce, a creamy soup or over desserts such as pumpkin pie or custard, cakes and biscuits. As well as having digestive properties nutmeg is also said to be antibacterial and sleep-inducing. Don't overdo it though nutmeg can be toxic in large doses.


Vanilla
Who doesn't love the sweet aroma of vanilla! So many foods have this delicious seductive flavour added. Drinks, desserts, cakes, biscuits, tarts, fruit puddings all benefit as do some savoury dishes as well. While studies are showing promise for various medicinal benefits it is the effect on our feel-good hormones, uplifting our spirit and calming nerves that I think is noticed by most of us.
Sultanas
Sultanas are used in both sweet and savoury dishes. They are dried seedless green grapes and if you buy organic sultanas they are a healthy snack. Sultanas add sweetness to dishes and allow you to replace or decrease the amount of sugar you use in desserts and baked goods. High in antioxidants that provide many health benefits they also contain fibre and carbohydrate, iron and potassium.


How To Make Pumpkin & Rosemary Biscuits
Step 1: Preheat the oven to moderate 180°c and grease or line a baking tray.
Step 2: Cut up pumpkin, and steam it till soft. Measure out 1 cup.

Step 3: In a large bowl beat the cooked pumpkin, sugar, oil and vanilla.

Step 4: Add the sultanas, chopped rosemary and freshly grated ginger.

Step 5: Mix all the dry ingredients with the flour: Nutmeg, cinnamon powder, ginger powder and salt.
Step 6: Add it to the pumpkin mixture, and mix well to avoid clumps of flour.

Step 7: Drop spoonfuls onto a greased tray and bake in the oven for 20-30 min or until golden.
---